Welcome!
The deep-rooted and far-reaching impacts of climate change make it one of the most defining challenges in the world today. The impacts of climate change manifest in primary effects such as increased frequency and magnitude of extreme weather events like droughts, storms and floods. However, it is the negative secondary effects that often go over-looked, especially for those who already experience inequalities, including women, youth, the elderly, persons with disabilities and minority groups.
Multiple and intersecting social inequalities affect the ability of marginalized groups to adapt to a changing climate, excluding these groups from decision-making processes at household, community, and national levels. They also prevent them from taking hold of the opportunities that low-emissions, climate-resilient development brings towards improved livelihoods, particularly in sectors like renewable energy that also have the potential to improve the socio-economic wellbeing of women.
This self-paced e-course provides an overview of the interlinkages between gender, human rights, climate change, and renewable energy. It provides participants with the specific knowledge and tools to integrate and implement gender equality in renewable energy access and entrepreneurship, as well as related gender-responsive and human rights-based approaches in climate change mitigation and adaptation measures. Click on the "Enrol me" button to start learning!
If you encounter any difficulty or if you have any questions, please consult our help page.
Support climate change literacy
We want to continue our crucial journey to equip people with the skills and knowledge needed to make informed decisions, to act and to fight climate crisis.
Donate
What Will You Learn?
After completing the course, participants will be able to:
Describe the nexus between gender equality, human rights, renewable energy, and climate change




Explain how a gender-responsive and human rights-based approach in climate action leads to economic, social, and environmental benefits




Recognize international and sectoral commitments on gender equality, human rights, and climate change and their relationship with national priorities and policies




Identify entry points for gender and human rights in renewable energy and climate policy and action




Select and apply tools and approaches for the promotion of human rights-based and gender-responsive climate action




Discuss targeted opportunities for women in climate change and renewable energy, with a particular focus on multi-stakeholder collaboration, renewable energy entrepreneurship, and access to finance.
The Course at a Glance
The course includes 3 modules. These have specific learning objectives and contain a broad range of features such as videos, case studies and exercises. Each module is divided into 4 lessons of around 30 minutes each.
The course provides learners with the option to choose and combine different thematic modules. There are two main learning pathways available that participants can select based on their interests. Pathway 1 is particularly intended for renewable energy experts and professionals of financial institutions. Pathway 2 is designed specifically for climate change and green economy policymakers. Both learning pathways have a common introductory module. Participants can also opt to take all three modules.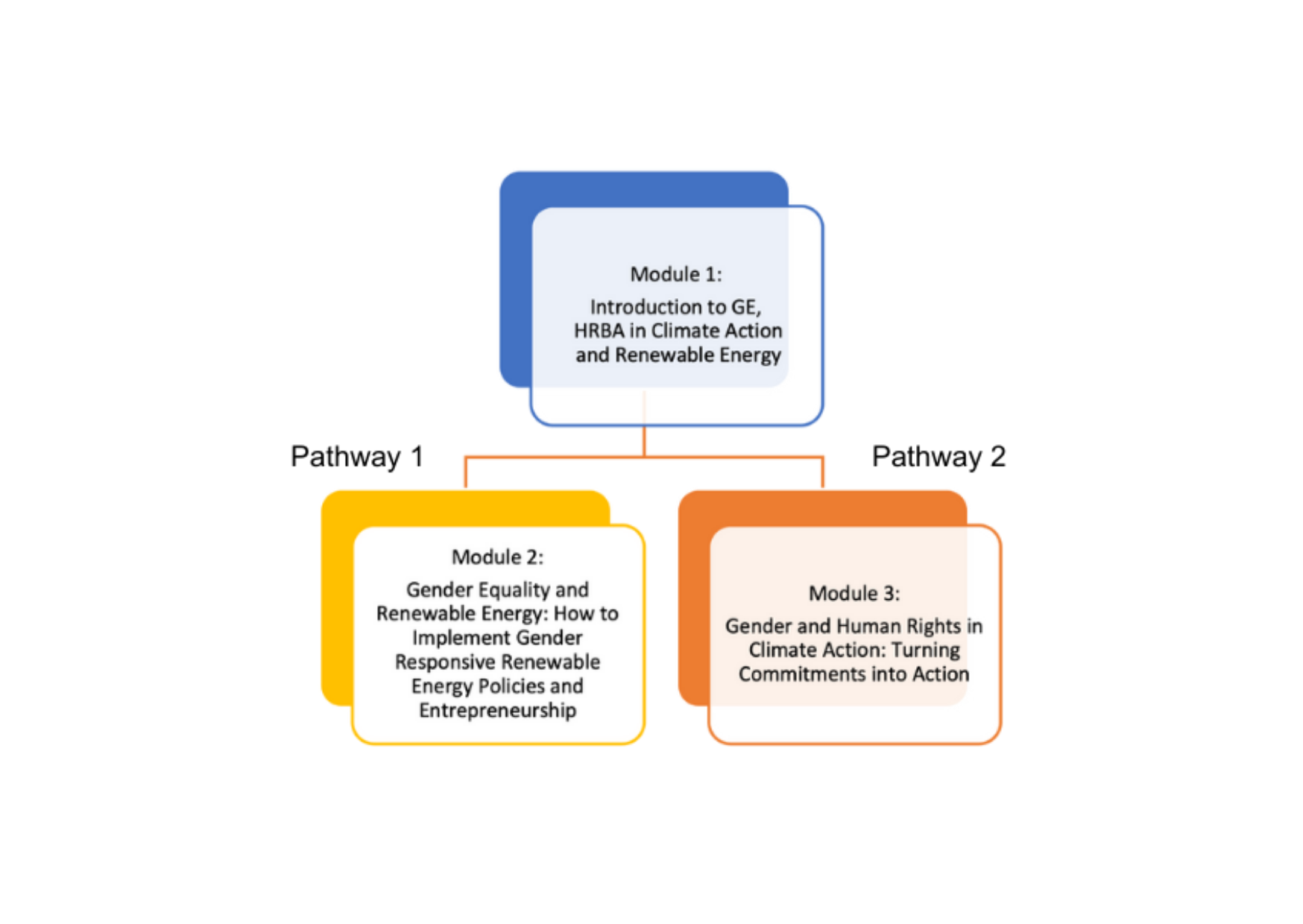 Who Should Take This Course?
The course is of particular interest to the following audiences:
1. National policymakers, government officials and stakeholders in sectors of climate change, gender equality and renewable energy, as well as regional actors;
2. Renewable energy service providers and officials of financial institutions in renewable energy entrepreneurship;
3. Anyone interested in learning more about gender equality and human rights-based approaches in the renewable energy sector.
Get a Certificate
Level 1: Each module in the course has a final quiz to assess participants'understanding of the content. Participants will receive a completion badge via email upon successful completion of each quiz.
Level 2: Participants who pass all the final quizzes within their learning pathway will receive a UN certificate of completion, where successful completion will require a score of 70% or higher with a maximum of 3 attempts at each quiz. Upon successful completion of the quizzes, participants will be able to download their certificate – or their 2 certificates if they followed all three modules – from the "Certification" section of the course's webpage.
After completion, participants have the possibility to submit a feedback form accessible on the course webpage. Users are also invited to participate in a pre- and post-survey on how they (intend to) use the knowledge acquired.
Partners and Contributors
This e-course is jointly developed by UN CC:Learn, UN Environment and UN Women under the project EmPower: Women for Climate Resilient Societies, with the support of the Swedish International Development Cooperation Agency.

Disclaimer

Cover picture credit: Abbie Trayler-Smith/Panos Pictures Credit for icons: @Flaticon copied under licence.
All the images taken from UN partners are licensed as "

CC BY-NC-ND 2.0

" and can be redistributed in any medium or format.